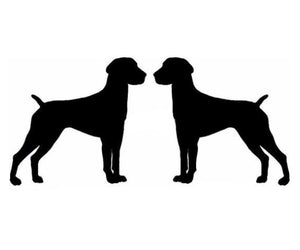 2 German Shorthaired Pointer Vinyl 2x3" each Pointer stickers
Regular price $0.00 $4.95 Sale
Vinyl 2x3" Pointer sticker. Great for your car window, bumper, laptop, or anywhere you can find to stick them!
Quantity: 2 stickers (one left & one right facing)
Application instructions:
1. Clean the surface where the decal will be installed.
2. Slowly remove the paper backing making sure that your decal remains stuck to the clear transfer tape. If part of your decal lifts up with the backing, press the paper backing back down against it until it stays stuck to the transfer tape.
3. Once your decal is peeled away from the backing, line up & position your decal against the surface to which it will be applied.
4. Use a credit card, squeegee, or something similar to smooth down your decal, making sure that it is completely stuck to the surface.
5. Carefully & Slowly, remove the transfer tape from your decal, making sure that your decal is stuck to the surface. If you see part of the decal does not release from the transfer tape, press it back down to the surface and repeat the process.
*This product may ship from overseas when inventory runs low resulting in 12-20 business days for delivery.*